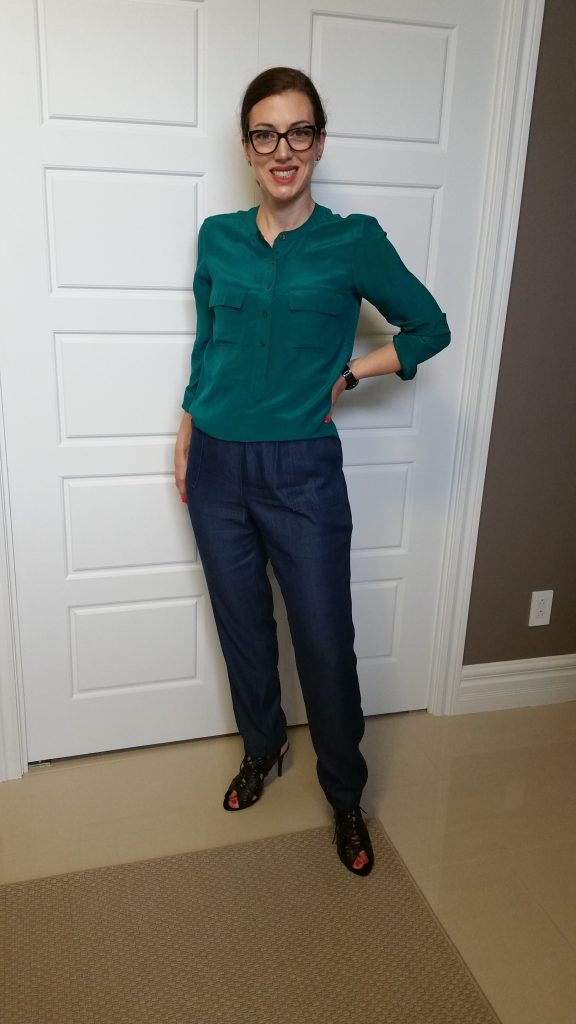 This project is sponsored by Fabricville.
Ce projet est commandité par Fabricville.
The sporty chic look is still very present in fashion magazine. I am sure that it's due to the fact that it is so easy to wear and very comfortable.
Le look sport chic est encore bien présent dans les magazines de mode. Il est fort à parier que sa longévité peut être attibuée au fait qu'il est facile à porter et ultra confortable.
There are many different jogging pants pattern available at Burda, Butterick, McCall's and Vogue. The one that grabbed my attention is Vogue V8909. Since I have made it several times in the past few years, I can attest that it's an easy make. You can cut, sew and wear these pants in one afternoon.
Plusiers modèles de patrons de pantalon style jogging sont disponibles chez Burda, Butterick, McCall's et Vogue. Celui qui a capté mon attention est le Vogue V8909. Comme je l'ai déjà cousu plusieurs reprises, je peux vous dire qu'il est facile à modifier et qu'on peut le réaliser en un après-midi.
For this version, I chose the tencel denim from Fabricville's Spring collection. With 5 denim shades in stock online, you have a lot of choices!
Pour cette version, j'ai choisi le tencel denim de la collection printanière de Fabricville. Avec les 5 teintes de tencel denim en stock sur la boutique en ligne, vous aurez l'embarras du choix!
Since this fabric frays easily, it requires a bit more care to ensure an impeccable finish. First, I washed and dried the fabric on a delicate cycle. Then, I ironed the fabric on a low setting. I pinned both the selvage and the fold. Then, I pinned the pattern pieces onto the fabric instead of using pattern weights. Tencel tends to shift a bit while cutting. I held the fabric down with one hand while cutting with the other hand.
Puisque ce tissu s'effiloche facilement, il requiert un peu plus de préparation pour avoir une finition impeccable. Tout d'abord, j'ai lavé et séché le tissu au cycle délicat. Ensuite, je l'ai repassé à basse température. Par la suite, j'ai choisi d'épingler les lisières et le pli du tissu. Ceci m'a aidé à stabiliser le tissu lors de la coupe. J'ai épinglé les pièces du patron directement sur le tissu au lieu d'utiliser des poids pour tenir le patron en place. Au moment de couper, j'ai appuyé une pression sur le patron d'une main pendant que je coupais de l'autre main.
I recommend that you use fabric scraps to find the best stitch length for the fabric. I decided to set the stitch length to 2.6 with a universal size 11 needle. I double-stitched and serged all seams.
Pour coudre ce tissu, je recommande de faire des essais sur des retailles pour trouver la bonne longueur de point. J'ai utilisé un point droit de longueur 2.6 sur ma machine et une aiguille universelle 11. J'ai fait des coutures doubles sur l'ensemble du pantalon et j'ai surjeté les coutures.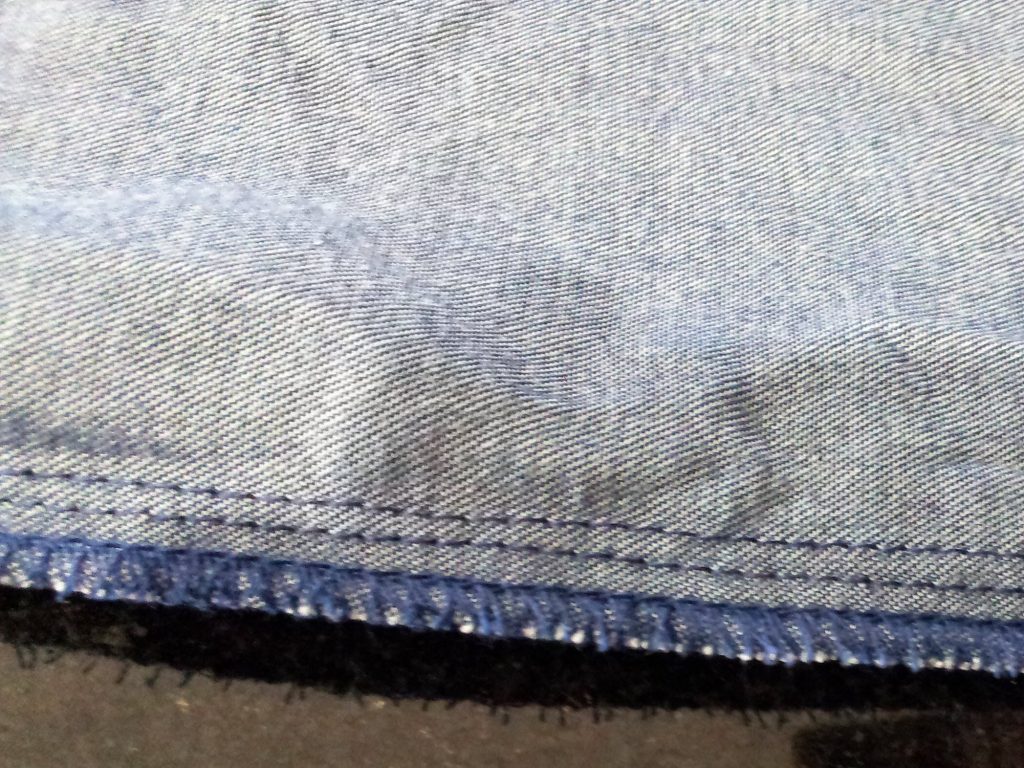 The only design modification I made to the pattern is the addition of the front patch pockets. You might recognize the patch pockets from my denim jumpsuit I made last year. Yes, I recycle pockets! It is the beauty of sewing your own clothes. You can add the design elements that you want onto your me-made clothes.
J'ai modifié le patron quelque peu avec les poches plaquées à l'avant. Vous aurez peut-être remarqué que ce sont les mêmes que celles sur ma combinaison en denim de l'an dernier. Et oui, je recycle les poches! C'est l'avantage d'être son propre designer.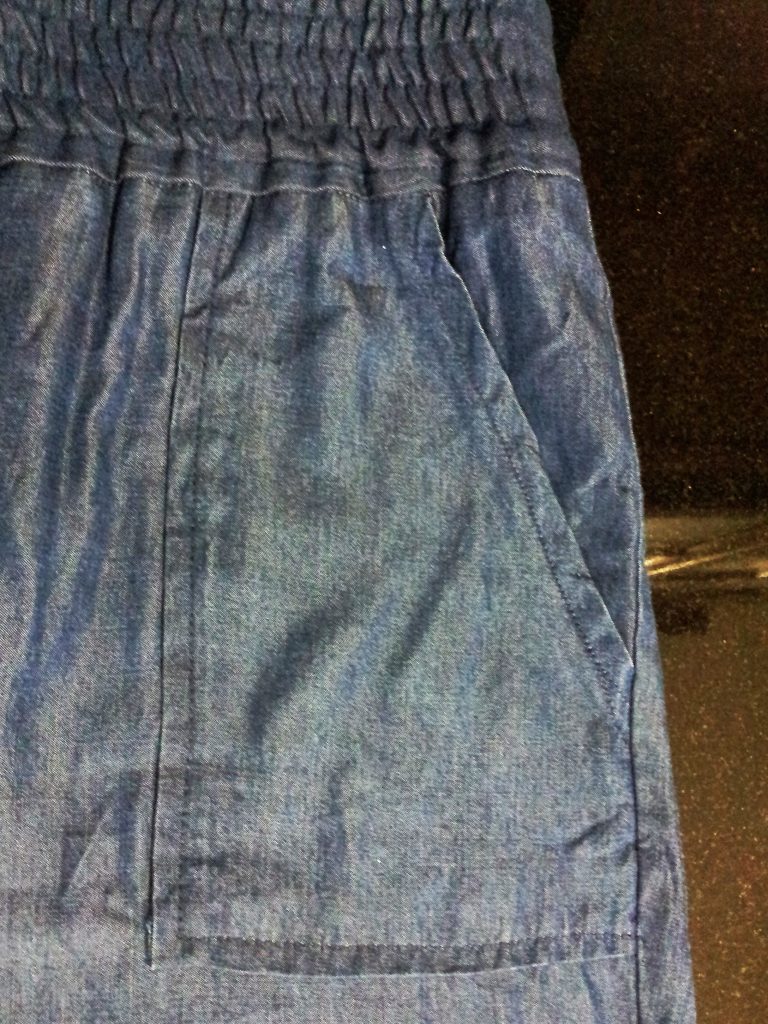 Overall, I highly recommend this easy-to-wear fabric for your summer creations. It does require some precautions while cutting and sewing but the end result is very rewarding!
Somme toute, je recommande fortement ce tissu pour vos tenues estivales. Certes, il requiert un peu plus de précaution mais le résultat en vaut la chandelle.